Rubbing the wrong way...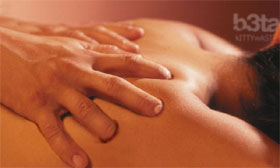 Mostly this afternoon I decided to go and have a massage at a chinese health place that I'd been recommended. This past week has been rather stressful and I tend to bunch it all up in my shoulders. A quick glance at my shoulders in the mirror this morning confirmed I had reached a Sandi Toksvig level of stress and needed to sort it out. Now I've had massages before, not often it must be said, but I'm pretty sure that a massage involves, at the very least, some rubbing and maybe a better of 'feeling better'. Not so Chinese massage it turns out. Whatever massages I've had in the past (Swedish, remedial and raki) beared almost no relationship to the beast that is Chinese massage. It's rather hard to describe, but basically I think a good few hundred years ago they started opening up people using crow bars. When, for good reason, this practise became rather unfashionable they decided to try and accomplish the same result with just their fists and elbows: thus Chinese massage was born.
Now it must be said I do feel more relaxed now; however I have a strong suspicion that I feel better after that massage in the same way a hostage might feel better after being released.